The Alexandra District Energy Utility (ADEU) is the City of Richmond's first district energy system and was established as a part of its commitment to reduce community greenhouse gases emissions. The ADEU currently services more than 2,200 residential units, 12 buildings and 2.3 million square feet of floor space. This includes 314,000 square feet of commercial floor space and the first ever Wal-Mart to be connected to a district energy system.
The ADEU extracts energy from the earth by use of ground-source heat pumps and geo-exchange technology. Across both geo-fields are 726 vertical loops of pipe, each of which runs about 76m (250 ft.) deep and are connected to 3.6km of underground distribution piping throughout the West Cambie neighbourhood. Depending on energy demands, the heat pumps can either extract energy from the ground for heating services or pump it back into the ground for cooling services. The ADEU prioritises using geo-exchange when possible and only switches to the natural gas boilers or cooling towers on the coldest and hottest days of the year.
Since its opening in 2012, the ADEU has undergone multiple expansions, providing energy for an increasing number of customers. Even now, the ADEU is continuing to expand: Phase 5 broke ground in the summer of 2019 with plans for the construction of two additional geo-exchange fields over the next few years.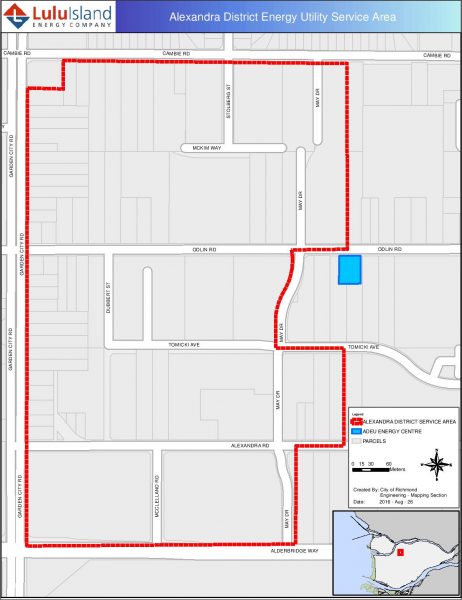 The information shown on this map is true and complete as per the date printed on the map.

Learn More
Phase 1 (2012): ADEU starts operation after construction of the initial ADEU energy plant, the first geo-exchange field and the north loop of the distribution piping is completed.
Phase 2 (2013): More distribution piping is added, with more building connections.
Phase 3 (2015): The second geo-exchange field is installed to keep up with energy demands; energy plant has been expanded. As well, three 1,500 kW gas boilers and two 2,550 kW fluid coolers are installed as backup for periods of peak demands. The south loop of distribution piping is completed.
Phase 4 (2016): Low-carbon air-source heat pumps are added to the system to service 284,000 square feet of retail space.
Phase 5 (2019-2021): More distribution piping is added to allow for the construction of two additional geo-exchange fields. The two new geo-exchange fields are expected to be built over the next few years.
The Future: We anticipate that at full build-out, the ADEU will service 4.5 million square feet of space which includes 3,100 units of residential as well as commercial, office and institutional buildings.
LIEC rates include all commodity costs, day-to-day maintenance and operating costs, and all DEU equipment replacement costs: you won't need to ever worry about any on-going maintenance or end-of-life replacement costs for in-building energy generation equipment, such as boilers, chillers and cooling towers.
For detailed information on rates see here.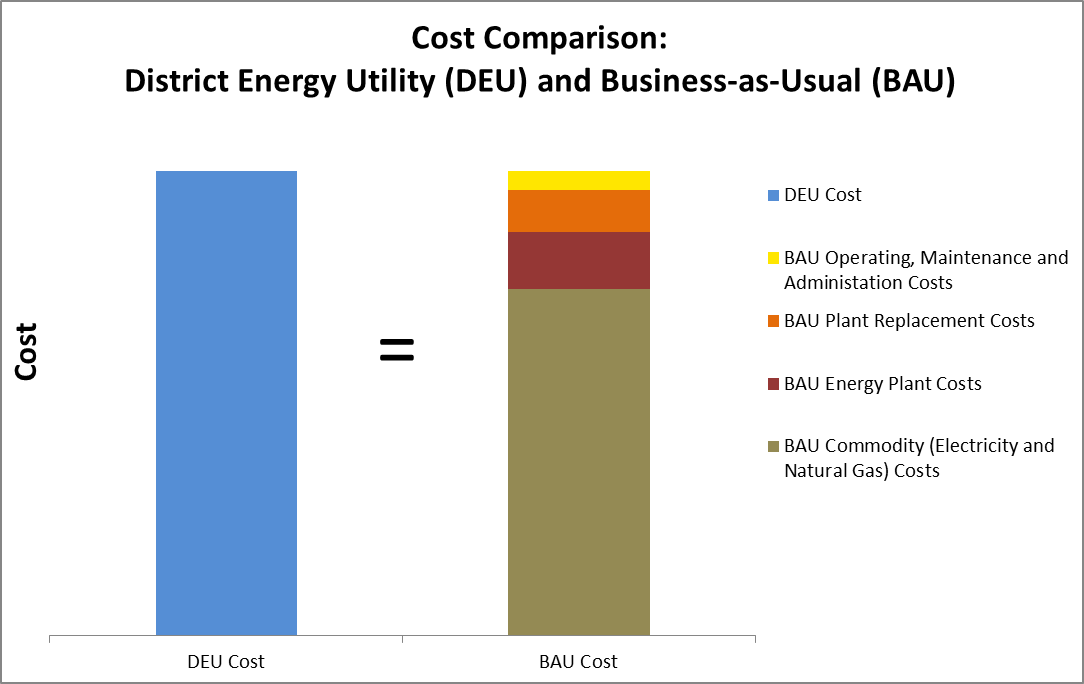 Below are links to PDF documents that should guide developers in setting up their building to be connected to the ADEU.
If you're looking for documents on other districts, please visit our Developer Information page.